French version below
We are very pleased to announce a new event of our Foundation, which for the first time in its history will take place on American soil. As you know, transatlantic relations are at the heart of our actions and our DNA. And after having welcomed a number of Americans to Tocqueville, on Alexis' land, we are delighted to be able to cement this link even further by launching, with the support of the Entretiens de Royaumont, "Les Entretiens de New York".
I am very pleased to share with you this first presentation, written with Jérôme Chartier, president and founder of the Entretiens.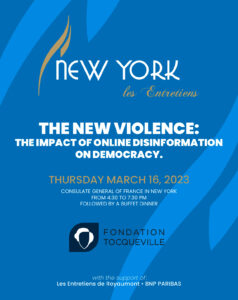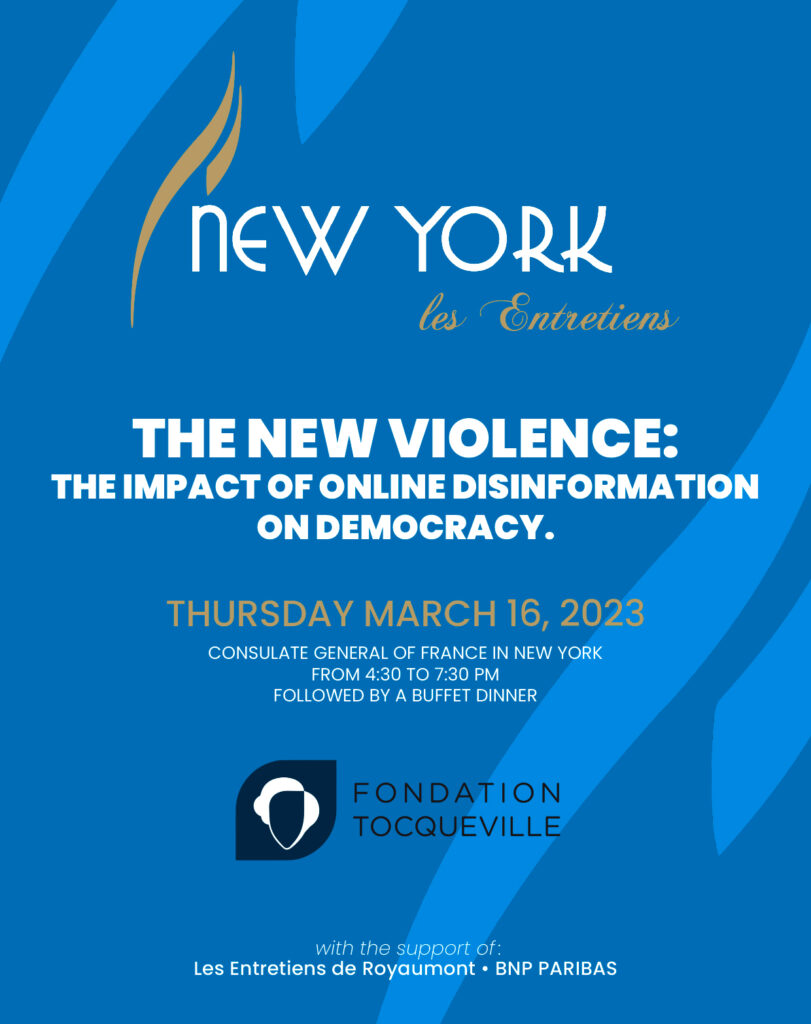 Relations between the United States and France follow a sinusoidal curve, with its peaks and valleys, often in excess and rarely in proportion, defining the complexity of two cultures that are so impressed by their closeness and so opposed by their path.
But if there is one dimension that unites them, it is certainly their idea of democracy. In his time, Tocqueville was able to find the words to unite their destiny through a "certain idea" of Liberty, which we find today in the foundations of the democratic systems of both nations.
But these systems, which once provided examples and awakened consciences, are now sinking into violence, the result of the era and the excess – probably – of freedom or blindness left to the digital shift, which without a conscience, would only become the ruin of the soul…
Thus, our first edition will have as its theme "The New Violence: The impact of online disinformation on Democracy" and will explore how violence spreads and becomes a preferential mode of response to disagreements in our democratic societies and how concrete actions can combat this trend.
This first and exceptional edition will take place on Thursday, March 16, 2023, from 4:00 pm to 7:30 pm at the Consulate General of France in New York, and may the Consul General, Jérémie Robert, be specially thanked for his welcome. Like the wonderful family of diplomats at the Quai d'Orsay, he wanted to seize the opportunity to host this moment of reflection between two nations, prompted by the urgency of the concern about the drifts of democracy fuelled by unchecked troublemakers that could destroy it if no one decides to take care of them.
Alongside speakers of great value, professionals, researchers and personalities of ideas, Hubert Védrine and Garry Kasparov were kind enough to conclude these first Talks. Their respective richness, their in-depth views on a changing world, will undoubtedly leave a mark on people's minds and bring a strong dimension to this unique moment.
If you wish to participate in these talks, the number of places being strictly limited by the small size of the venue, you can contact the Foundation at tlafont@tocquevillefoundation.org.
_______
Nous sommes très heureux de vous annoncer un nouvel évènement de notre Fondation, qui pour la première fois de son histoire, interviendra sur le sol américain. Vous le savez, les relations transatlantiques sont au cœur de nos actions et de notre ADN. Et après avoir accueilli nombre d'Américains à Tocqueville, sur les terres d'Alexis, nous nous réjouissons de pouvoir matérialiser encore plus ce lien en lançant avec le soutien des Entretiens de Royaumont « Les Entretiens de New York ».
Nous sommes très heureux de vous partager cette première invitation, rédigée avec Jérôme Chartier, président et fondateur des Entretiens.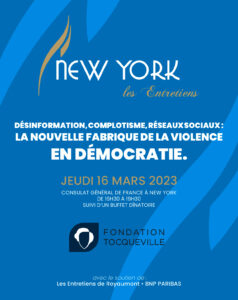 Les relations entre les Etats-Unis et la France vivent le chemin d'une courbe sinusoïdale, avec ses pointes et ses inversions, souvent dans l'excès et rarement dans la mesure, définissant la complexité de deux cultures si impressionnées par leur rapprochement et si opposées par leur cheminement.
Mais s'il y a une dimension qui les unit, c'est certainement l'idée qu'elles se font de la démocratie. En son temps, Tocqueville su trouver les mots pour unir leur destin à travers une « certaine idée » de la Liberté, que l'on retrouve aujourd'hui dans les fondements des systèmes démocratiques des deux nations.
Mais ces systèmes qui prodiguaient naguère exemples et éveil des consciences sombrent dans la violence, issue de l'époque et de l'excès – probablement – de liberté ou d'aveuglement laissé au virage numérique qui sans conscience, ne deviendrait que ruine de l'âme…
Ainsi, notre première édition aura pour thème « Complotisme, désinformation, réseaux sociaux, la nouvelle fabrique de la Violence en démocratie » et explorera comment la violence se propage et devient un mode de réponse préférentiel aux désaccords dans nos sociétés démocratiques.
Cette première et exceptionnelle édition aura lieu le jeudi 16 mars 2023, de 16h à 19h30 au Consulat général de France à New-York et que le consul général, Jérémie Robert, soit spécialement remercié pour son accueil. À l'instar de cette formidable famille que constitue les diplomates du Quai d'Orsay, il a voulu saisir l'opportunité d'accueillir ce moment de réflexion entre deux nations voulu par l'urgence de l'inquiétude sur les dérives de la démocratie alimentés par des trublions sans contrôle et qui pourraient la détruire, si personne ne décide d'y prendre garde.
Aux côtés d'oratrices et d'orateurs de grande valeur, professionnels, chercheurs et personnalités d'idées, Hubert Védrine et Garry Kasparov ont bien voulu procéder à la conclusion de ces premiers Entretiens. Leurs richesses respectives, leurs regards en profondeur sur un monde changeant, marquera à n'en pas douter les esprits et apportera une dimension forte à ce moment unique.
Si vous souhaitez participer à ces Entretiens, le nombre de places étant strictement limité par l'exiguïté des lieux, la Fondation se tient à votre entière disposition, et vous pouvez nous contacter à cette adresse : tlafont@tocquevillefoundation.org.