HSH Prince Albert II of Monaco and Jean-Guillaume de Tocqueville reward Daniel Kleinman, Founder and CEO of Seaworthy Collective
The prize, created from a joint initiative of the Prince Albert II of Monaco Foundation and the Tocqueville Foundation, rewards and supports innovative projects that encourage philanthropy in the service of sustainable societal innovation.
Monday, June 20, on the occasion of the 12th edition of the Prince's Round Table for Philanthropy, HSH Prince Albert II of Monaco has granted the Prince's Prize for Innovative Philanthropy 2022 to Daniel Kleinman, founder and CEO of Seaworthy Collective that he launched in Miami in 2020 to break the silos he experienced in industry by supporting fellow impact changemakers addressing the ocean's greatest problems.
Seaworthy Collective is the leading community of sea change makers driving regenerative ocean and climate impact. The community is supported by Seaworthy Foundation, a non-profit social impact arm, and Seaworthy Ventures, a for-profit economic impact arm. Seaworthy Foundation builds community and inclusion for ocean and climate impact innovation through accessible education and empowerment. Seaworthy Ventures drives regenerative blue economy development through community-based opportunities to co-create and grow profitable ocean and climate impact technology businesses (AKA BlueTech).
Marine roboticist, Daniel Kleinman received a Bachelor of Science in Mechanical Engineering from the University of Florida, and a Master of Professional Science in Exploration Science from the University of Miami Rosenstiel School of Marine and Atmospheric Science.
As an undergraduate, Daniel interned with the Woods Hole Oceanographic Institution and became versed in design and systems thinking as a University Innovation Fellow. After graduating in 2015, Daniel started his career as a pilot and test engineer for Bluefin Robotics' unmanned underwater vehicles in Boston. Daniel then served as a Navy contractor and mechanical engineer in maritime systems in San Diego. Daniel has been recognized as one of Miami's Ambassadors for Sustainable Development Goal 14, a 30 Under 30 by the University of Miami, and a Future Climate Leader by the Aspen Institute.
Receiving the award from HSH Prince Albert II of Monaco, Daniel said we was honoured.
« This distinction truly validates the work we've done at Seaworthy, along with the systemic changes we have already started moving the needle on. It also shows what collective determination and participation can accomplish when accessible opportunity reaches those with the passion to contribute (…) As the challenges of climate change and ocean degradation continue to grow in urgency and scope, so must the system to support solving it. We need to not only support communities and solutions, but also focus on developing larger innovation ecosystems and value chains for ocean and climate impact and technologies. Additionally, we all have different forms of capital to contribute and exchange, and valuing social, intellectual, cultural, and natural capital provide some foundational pieces for systemic change in philanthropy. »
Daniel Kleinman emphasized the importance of his dad's legacy in achieving the launch of Seaworthy, a topic echoing the chosen theme for this 2022 Prince's Roundtable: "Next Generation Philanthropists: Transmission of values & future opportunities". It was a pleasure welcoming as inspirational speakers sharing their vision and experience, Francesca Thyssen (Founder and Chairwoman, Thyssen- Bornemisza Art Contemporary Privatstiftung), Angela Williams (CEO, United Way Worldwide) and Daniel Kleinman (Founder and CEO, Seaworthy Collective).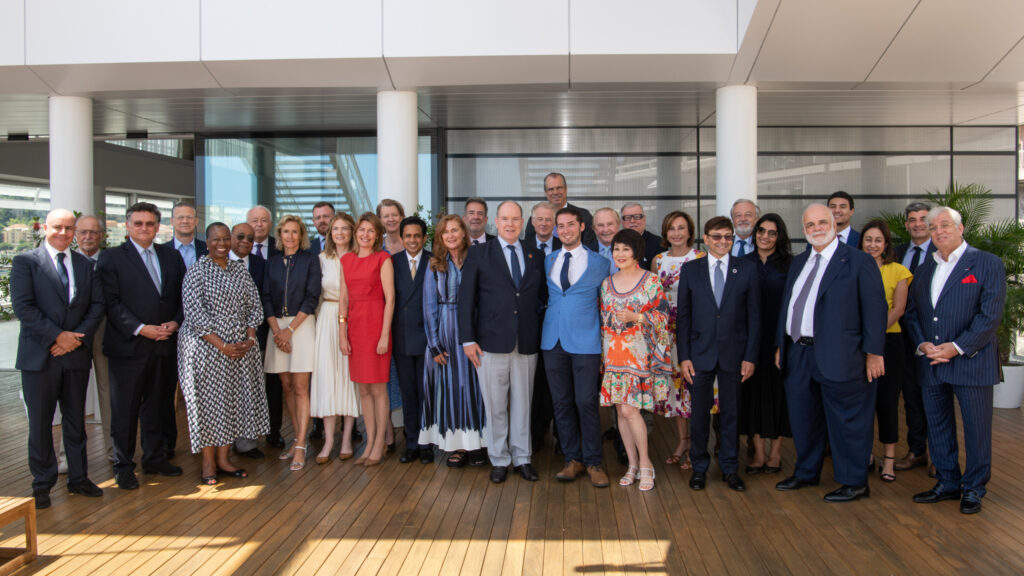 The Prince's Round Table for Philanthropy
The Tocqueville Foundation and the Prince Albert II of Monaco Foundation organise an annual closed-door forum of leading international philanthropists. The forum takes place in Monaco following or preceding the annual World Economic Forum in Davos. The forum helps philanthropists to exchange ideas, share experiences and collaborate in a confidential environment. His Serene Highness Prince Albert II and Jean Guillaume de Tocqueville have moderated the annual forum since its inauguration in 2011. Each year the Roundtable examines a subject through the window of philanthropy and invites two esteemed speakers to bring their unique perspectives to the discussion.
Last year's speakers included Laurence Tubiana (European Climate Foundation CEO and Chair of the Board of Directors at the French Development Agency (AFD)) and Dr. Johan Rockström (Director of the Potsdam Institute for Climate Impact Research and Professor in Earth System Science at the University of Potsdam) on the theme "One Planet, One Health".
Photos : Axel Bastello, Palais Princier