English version below 
Modératrice : Galia Ackerman, journaliste, essayiste, Desk Russia
Garry Kasparov, Président de la Fondation des droits de l'Homme, champion du monde d'échecs
Daniel Fried, Ambassadeur Atlantic Council, ancien Sous-secrétaire d'Etat américain aux Affaires Européennes
Andrzej Nowak, Professeur à l'Université de Cracovie
Résumé :
Quelles sont les causes de l'agression ? Que veut Poutine ? Assistons-nous à une rechute du totalitarisme communiste ou à un mode opératoire impérial despotique bien plus ancien ? Avons-nous contribué au déclenchement comme l'affirme la Russie qui accuse l'Occident d'encerclement ? Ou est- ce au contraire notre passivité́ face au révisionnisme agressif de la Russie qui a mené́ à la catastrophe ?
Pour explorer ces questions fondamentales, et commencer à décortiquer la logique russe, la première table-ronde de cette 5ème édition des Conversations assemble un panel varié, tant au niveau des nationalités que des expertises.
« The key element of success of any democracy is the peaceful transition of power". L'ancien champion du monde d'échecs et figure majeure de l'opposition, Garry Kasparov revient sur l'histoire récente en opposant la transition démocratique ukrainienne débutée en 1991 au retour à l'URSS et sa logique impérialiste de son voisin russe. Cette différence fondamentale entre l'Ukraine et la Russie est la source de la guerre qui a éclaté le 24 février. Il mentionne également la réaction de l'Occident qui s'est laissé surprendre, et qui n'a pas su lire dans la propagande poutinienne les prémices de cette attaque, annoncée depuis 8 ans dans la propagande russe.
Andrzej Nowak, professeur à l'université de Cracovie développe quant à lui la notion de « Russkiy Mir » et la dialectique linguistique qui fonde cette idéologie de conquête. Entendu à la fois comme « monde Russe » et comme « Pax Russica », Poutine rêve d'un rassemblement de la Russie, la Biélorusse et de l'Ukraine dans une nation « complète », qui absorberait un état Ukrainien jamais considéré comme pleinement souverain. Et les avis contradictoires viennent de fascistes.
Le second aspect de cette notion est un dédain pour un Occident corrompu, que Poutine cherche inlassablement à diviser : dans un premier temps entre Europe de l'Ouest et Europe de l'Est, puis entre Europe et Etats-Unis.
Pour finir, Dan Fried, ancien Secrétaire d'Etat aux Affaires Européenne américain, qui a été aux premières loges à la fin de la Guerre Froide, démonte la rhétorique de la propagande du régime (partagée en Occident) selon laquelle la guerre est due aux élargissements successifs de l'OTAN. Selon lui, l'objectif de l'OTAN et des Américains à la fin de la Guerre Froide a été d'unir l'Europe et de finir le processus enclenché à Yalta en 1945, tout en préservant les relations avec la Russie.
En conclusion, ce panel établit que la responsabilité de l'invasion est uniquement russe, et a été préparée idéologiquement par le régime de Poutine depuis de nombreuses années dans une logique impérialiste née de la fin de la Guerre Froide.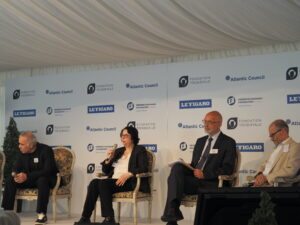 Solutions évoquées par les panelistes :
Arrêter de se sentir coupable, de s'auto-identifier comme déclencheurs de cette guerre
Continuer et renforcer le soutien militaire, logistique à l'Ukraine,
Et les sanctions contre la Russie pour les mettre sous pression
L'opinion publique russe (surtout dans les grandes villes) pourra avoir un impact sur le régime si l'illusion de la victoire sur le terrain s'effrite.
S'assurer que les nouvelles du front remontent en Russie est crucial pour déstabiliser la propagande du régime et montrer la réalité.
Laisser l'Ukraine maître du « tempo diplomatique » : ne pas se précipiter dans des négociations qui entraineraient des concessions ukrainiennes.
Une victoire militaire totale de l'Ukraine permettrait de briser le modèle impérialiste de la Russie et envisager une évolution dans un régime construit sur un mythe de puissance.
Pour aller plus loin :
Democracy's Most Dangerous Assumptions, Daniel Fried, June 2022, Journal of Democracy : https://www.journalofdemocracy.org/democracys-most-dangerous-assumptions/
Summit speed read: How the G7 and NATO pushed back on Putin, Daniel Fried, July 2022, New Atlanticist : https://www.atlanticcouncil.org/blogs/new-atlanticist/summit-speed-read-how-the-g7-and-nato-pushed-back-on-putin/
Sanctioning Russia is a long game. Here's how to win., Daniel Fried and Brian O'Toole, June 2022, New Atlanticist : https://www.atlanticcouncil.org/blogs/new-atlanticist/sanctioning-russia-is-a-long-game-heres-how-to-win/
Part XIV: Russian military recruits and Russian war crimes (Mr. Garry Kasparov), web-série produite par le Ministère des Affaires étrangères polonais : https://www.youtube.com/watch?v=p5jkf1X9gPY
Renew Democracy Initiative : https://rdi.org et sa newletter mensuelle : https://rdi.org/weekly-newsletter/
Desk Russie, le media francophone pour suivre l'actualité russe : https://desk-russie.eu
Anatomy of the Russian invasion
Moderator: Galia Ackerman, journalist, essayist, Desk Russia
Garry Kasparov, President of the Human Rights Foundation, world chess champion
Daniel Fried, Ambassador Atlantic Council, former US Under Secretary of State for European Affairs
Andrzej Nowak, Professor at the University of Krakow
Summary:
What are the causes of the aggression? What does Putin want? Are we witnessing a relapse into communist totalitarianism or a much older despotic imperial modus operandi? Did we contribute to the conflict, as Russia claims and accuses the West of encirclement? Or was it instead our passivity in the face of Russia's aggressive revisionism that led to the catastrophe?
To explore these fundamental questions, and begin to unravel Russian logic, the first roundtable of this 5th edition of the Conversations assembles a diverse panel, both in terms of nationalities and expertise.
"The key element of success of any democracy is the peaceful transition of power". The former world chess champion and major opposition figure, Garry Kasparov, looks back at recent history by contrasting the Ukrainian democratic transition that began in 1991 with the return to the USSR and its imperialist logic of its Russian neighbour. This fundamental difference between Ukraine and Russia is the source of the war that broke out on 24 February. He also mentions the reaction of the West, which allowed itself to be taken by surprise, and which failed to read in Putin's propaganda the first signs of this attack, which had been announced for eight years.
Andrzej Nowak, professor at the University of Krakow, develops the notion of "Russkiy Mir" and the linguistic dialectic that underlies this ideology of conquest. Understood as both "Russian world" and "Pax Russica", Putin dreams of a gathering of Russia, Belarus and Ukraine in a "complete" nation, which would absorb a Ukrainian state never considered as fully sovereign. And the conflicting views come from fascists.
The second aspect of this notion is a disdain for a corrupt West, which Putin tirelessly seeks to divide: first between Western and Eastern Europe, then between Europe and the United States.
Finally, Dan Fried, former US Secretary of State for European Affairs, who had a front row seat at the end of the Cold War, dismantles the rhetoric of the regime's propaganda (shared in the West) according to which the war is due to successive enlargements of NATO. He argues that the objective of NATO and the Americans at the end of the Cold War was to unite Europe and finish the process begun at Yalta in 1945, while preserving relations with Russia.
In conclusion, this panel establishes that the responsibility for the invasion is uniquely Russian, and has been prepared ideologically by the Putin regime for many years in an imperialist logic born of the end of the Cold War.
Solutions evoked by the panelists:
Stop feeling guilty, stop self-identifying as the trigger of this war
Continue and strengthen military and logistical support to Ukraine,
And sanctions against Russia to put them under pressure
Russian public opinion (especially in the big cities) can have an impact on the regime if the illusion of victory on the ground crumbles.
Ensuring that news from the front goes back to Russia is crucial to destabilize the regime's propaganda and show the reality.
Let Ukraine control the "diplomatic tempo": do not rush into negotiations that would lead to Ukrainian concessions.
A total military victory for Ukraine would break Russia's imperialist model and allow for an evolution in a regime built on a myth of power.